What our clients are saying
It's hard to trust most lead generation companies on the web. Most leads are recycled and old leads. LeadingResponse has by far been the most consistent lead generation company I have ever used.
– Injury Attorney
I have tested and used several variations of leads from LeadingResponse over the years. We have seen our firm go from 1 attorney to 12 attorneys because these leads gave us the foundation to start a solid statewide firm in multiple states.
– Personal Injury Attorney
Initially, I chose LeadingResponse because of the customer service of having an individual rep always available right down the street. I stayed because of the success.
– Attorney Client

Act now. Our leads don't last long.
Reserve your competitive cost-per-case leads today and have them delivered directly to your phone, text message, email, or preferred CRM.
Our multichannel solutions can support long term efforts. But our quality leads sell quickly so reserve now before your competition does.
Grow your practice and dramatically increase revenue with our multichannel marketing solutions and quality leads delivered every month. Over 500 law firms nationwide trust LeadingResponse to provide quality, exclusive leads to grow their business and expand their reach.
Running a successful legal firm is challenging. Our marketing solutions can connect you with more qualified consumers looking for legal representation. With options for our Lead Management System and direct-to-you call features, we can streamline your intake process and provide consistent delivery on leads that will propel your success.
Discover the difference that LeadingResponse can make. Our legal team, led by Carol Ornelas, has decades of industry experience, and we work with the top law firms in the country.
Learn how our marketing solutions can boost your law firm's intake and revenue
Call (800) 660-2550 or fill out the form.
We respect your right to privacy. Learn more here.
Our results speak for themselves

Over 1.7 Million
Leads Sold


8 Active Practice
Areas and Counting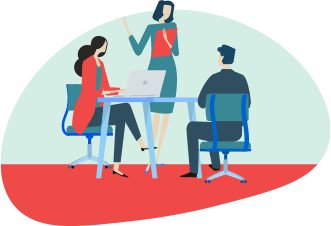 Our process
Dynamic marketing solutions can improve your firm's lead contact and conversion rates – immediately.
Engage
We find your ideal leads, wherever they are. Our multi-channel marketing solutions put us where your future clients are.
Diversify
Using every major online and traditional marketing channel, our team initiates contact with your consumers and ensures the right fit with your firm.
Target
Attract the right prospects, every time. Matching your specific criteria, we target and engage the best leads to grow your practice.
Pre-qualify
Save time and money. Our team confirms lead criteria and demographics before connecting them with you.
Connect
Marketing strategies have changed. Our team can connect you with the right leads, in the right way, at the right time.
Benefits of Direct Connect Sign More Cases With a 100% Lead Contact Rate.  Attorneys in smaller firms spend up to 40% of their time (~800 hours each year!) on administrative tasks, not practicing law. How much caseload growth could you unlock by getting back all those hours you spend chasing down each prospect?
LeadingResponse's call-focused service, DirectConnect, connects you instantly by phone with a live lead actively seeking legal representation today. In addition to a 100% contact rate, this powerful client conversion tool offers many other benefits you'll never get from buying traditional leads on their own.
Download your copy of 3 Benefits to Using DirectConnect Vs. Traditional Leads to learn how LeadingResponse can help you sign more cases every month.
Generate The Best Mass Tort Leads Generate Leads That Drive the Highest ROI Per-Case. The best Mass Tort leads can turn any personal injury law firm into a nationally known, revenue-generating powerhouse. But you don't need to spend millions on costly TV commercials to generate those high-value cases. LeadingResponse sold almost 100,000 Mass Tort leads to at least 500 satisfied law-firm in 2020.
We've been a premier Mass Tort lead provider for decades, so what's our secret? Our team of digital experts has compiled a list of 5 must-haves for generating the very best Mass Tort leads that are most likely to convert into signed cases. Download your copy now and learn to generate highly lucrative leads in-house for your firm.
Three Signs Your Firm Needs a Lead Acquisition Partner Law firms nationwide signed 6% fewer cases, on average, in 2020, which also shrank their bottom lines. In fact, finding new clients is a "significant challenge" for more than 1 in 4 firms today, according to a Thomson Reuters report. If your own firm's struggling to find and sign new cases, it's time to re-think your marketing strategy.
More than 500 law firms today rely on LeadingResponse to grow their monthly caseloads and revenue. That's because our marketing experts provide every tool you need to achieve real, sustainable growth. Download your copy of 3 Signs Your Firm Needs a Lead Acquisition Partner to learn how joining the LeadingResponse network can benefit your firm. Because we don't just deliver exclusive, filtered leads — we deliver results.
We have sold 1.7 Million leads and counting
Our legal partners count on us to fuel their firms with continued growth. Our forte is connecting clients with consumers at the exact point in the consumer journey that clients want to target. For our practice areas, our lead model delivers inquiries that are four times more likely to convert than those of our competitors.
Competition is fierce, and the marketing techniques you've used in the past won't work with today's consumers. Connect with us to learn how our marketing mix can grow your law firm and increase your revenue immediately.